" Your involvement made for a significant contribution towards the success of this quite unique project. "

D. Dovey, Borough Commander LFEPA


Windows 10 Upgrade pointers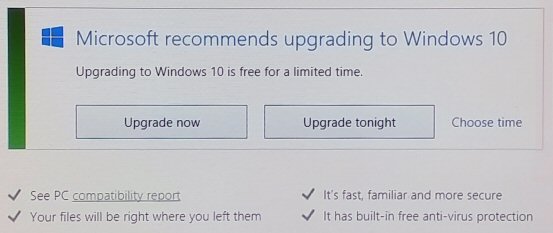 Well Microsoft would wouldn't they? But don't rush to click either button!


There seem to be a number of recurring problems with the Windows 10 upgrades that I'm getting calls about. Below are some suggestions of things to do BEFORE you even consider clicking the [UPGRADE NOW] button!
Ensure the existing system is fully up to date with all available Microsoft updates and drivers for the Windows Operating System itself AND any other Microsoft Products such as Office


Run a full Anti-Virus scan and MalwareBytes to ensure there is nothing 'unexpected' on the system.
Before attempting an upgrade it's important to have as stable a starting point as possible. If you have any problems with your existing Windows system then the upgrade will only make things worse.
Ensure you have your original Recovery CDs just in case you do decide to revert back to Windows 7 or 8 - the Win10 back out isn't that reliable.


Make sure you have copies of any License Keys you may require to reinstall your software. Belarc Advisor is a great bit of software for recording what you have installed and extracting any license keys.


Make sure you have backups of everything you have on your PC, starting with My Documents, My Photos and My Videos. Remember that many programs such as Sage, Quickbooks and Family Historian etc store their data in unusual places!


Make particular note of any email settings you have configured in Outlook, Live Mail or Thunderbird etc. If your email is using POP3, then STOP right now - you may lose ALL your email - get help! IMAP is fine, but you'll need to export contacts as they aren't saved on the iMAP server. Exchange ActiveSync deals with email, contacts and calendar events fine!
But should I upgrade?
My immediate answer is, NO - at least not in a hurry. The free upgrade offer is running until at least June 2016, so you don't need to do it today (unless your reading this on May 31st).

Firstly a question, why do YOU want to upgrade, what are you expecting? What new features are you desperate for? I ran the Windows 10 Beta for months and have upgraded a couple of my home machines this year, but today I only have one machine left running Windows 10. All the others have ended up being rebuilt back to the previous versions - the only reason I've kept a Win 10 machine is so that I can support my customers, it's not been my choice.



If you're running Windows 7, then stick with it. If you're running Windows 8.1, then this upgrade does offer some improvements and is therefore probably worth the hassle involved.


NOTE: If your machine is still under warantee, check with the manufacturer that they will still support you if you upgrade to Windows 10 - many don't recommend it and therfore you break the warantee by doing it yourself!


What if I don't want Windows 10
The Microsoft upgrade 'offer' is pretty insistent, some people have reported it just does it anyway without warning! The best option is to disable the GetWindows10 process (GWX) via some registry changes. These changes just disable the nagging, you will still see the offers on every Microsoft website you visit, but you are now in control if if/when you want to take up their offer.



Click the Registry icon on the right and you will download a ZIP file, you do not need to save it, you can open it and double click the enclosed REG file. There will be a couple of security and scary warning about trusting me - that's your choice, but once completed you reboot and the Microsoft nagging software will have been disabled.

NOTE: Windows 7 will remain supported by Microsoft until 2020, Windows 8 until 2023 & Windows 10 until 2025.


What if it's all gone terribly wrong?
If you upgraded within the last 30 days, then in theory you should be able to back out to your original operating system... in theory. In practice the Windows 10 upgrade will have uninstalled a number of incompatible software packages which you'll then find missing, so it won't be straight back to the good old days :-(

The better solution is to decide on where you want to be;

a) if you liked Windows 10, then download an image from Microsoft (here), copy it to a USB drive, and rebuild your system from scratch! You'll have to keep skipping all the nags for license numbers but you usually end up with a much more stable Windows 10 machine at the end of the day.

or B) Revert back to the original operating system using your OEM Recovery CDs - this gets you back to a factory default machine. You'll then need to install hundreds of Microsoft patches and all your applications to get you back to where you were last month.

In both cases, you had better have backed up your important stuff first!